JMA Vocalist of the Year Award-Winner, Signs With Aurally Records. A Sony Music Subsidiary Label Powered By The Orchard.
A look inside my music journey.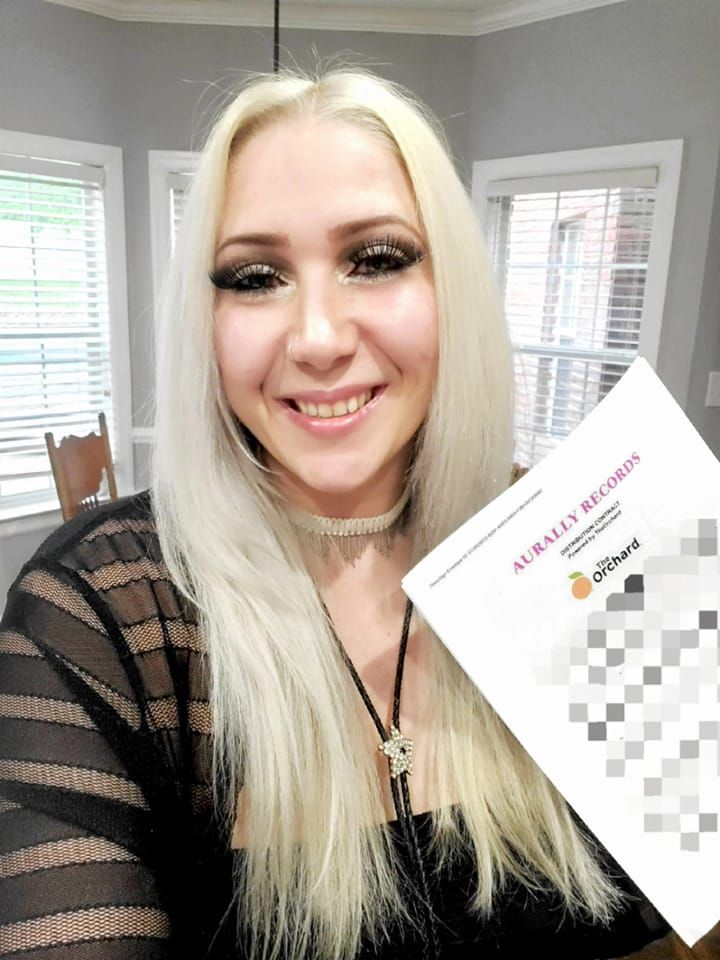 On May 5th, 2022, while most were celebrating Cinco De Mayo, I was celebrating for a different reason. I signed a distribution deal with Aurally Records. Aurally is a Sony subsidiary label powered by The Orchard! I am beyond excited for this new journey! This day is already  special to my family, being the anniversary of the day my husband joined the United States Military 17 years ago. Talk about kismet, fate, destiny, God sure does work in beautiful and mysterious ways. My upcoming single "Party Down a Dirt Road" was originally scheduled to release May 20th. With the new distribution deal, we're having to push it back a bit. We're hoping for a June 24th release day, with the EP to follow later this Summer!
I am honored and humbled to be a part of only 4% of artists worldwide, to receive this very special distribution offer. There have been a lot of things happening behind the scenes. I am always working towards my goals, and the last few years has been so rewarding of my efforts. It does not, and will not stop here. This is only the beginning of a brand new chapter. I wanted to kick this blog off the right way by sharing my testimate. 
I grew up poor. My mom did what she could as a single mother, but we had some moments when we had to seek assistance, eat in soup kitchens, participate in shop with the cop programs for Christmas presents, have churches deliver Thanksgiving baskets so we could have a holiday dinner, etc. We were homeless in our car for about a year, followed by a few years living in hotels not knowing how our bill would be paid every week, and couch surfing with anyone that would let us crash for awhile. I was always grateful for what we had. My mom helped give back to the community when she could, and I always went with her. Serving the homeless meals, volunteering to ring the Salvation Army Bell, Toy drives for kids. This is why I am so passionate about giving back now, and teaching my kids to do so. I am beyond blessed to have the life I do now.  
I am also a survivor of childhood physical abuse, and childhood sexual abuse, sexual assault as a teen, domestic violence, two suicide attempts, years of depression and anxiety, and so much more. I have had moments of weakness, but even at my lowest of lows, I chose to fight. I am a warrior. With hard work, determination, passion, drive, perseverance, and God, I fought my way through, and made my way up. My mission is to share my story through my music, to provide a little hope, to inspire, encourage, empower, and uplift others. Let me be your living proof that it doesn't matter your background, or upbringing. It doesn't matter how many times you hit rock bottom. If you put in the work, you can achieve anything! It won't be easy, but it'll be worth it. 
A special shout out to my amazing husband Charlie (Chuck) Ruffin for always having my back. Your love and support is truly everything! There isn't a soul on earth more perfect for me. I love you, and I am so happy to share these moments in life with you. A huge thank you to Mary Knoblock at Aurally Records/Produced By A Girl for this incredible opportunity! I am so grateful for all of the love and support thus far, and I'm very much looking forward to this new adventure! Buckle up y'all, it's time for blast off! 🚀  #musicandthemission #alyssaruffin #rockets #ruffinrockets #aurallyrecords #sonymusic #theorchard #letsgo #hardwork #distributiondeal #godisgreat